This week was the Sculpture JAM, where we were tasked with making an element from our game ideas as a sculpture. We could use whatever means we wanted to (e.g. clay, wood etc.)
For my sculpture I decided pretty quickly that I wanted to make something related to Eli. I have continued using my character Eli throughout most of the JAMs as I think he is a good character and it would be a shame to let him go to waste. He has an interesting personality and backstory which could make him quite a good game character, so I decided to make him one of if not the main character in my game ideas. Also as the ideas I have for games are loose right now (paradox research mainly) I felt it would be better to focus on a concrete part of the game ideas as I know I want Eli included in some way.
I then decided to make Eli's wheelchair, as it is an important part of his character and is also an interesting sculpture to make so it would make for an interesting JAM project.
I did some research on the internet and decided to base my design loosely around this picture of a wheelchair –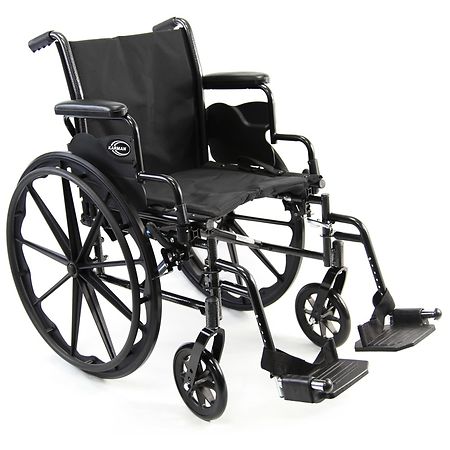 Picture Link – https://www.walgreens.com/store/c/karman-16in-lightweight-steel-wheelchair/ID=prod6119678-product
It is a general wheelchair image that I found on Google but it is useful for showing the key elements that I needed to design and create. I then looked at my early wheelchair designs for Eli in the Character and Animation JAMs, and then used them as well for reference.
Here are my initial wheelchair designs. Since we only had a few days to create the sculpture I only did some basic concept designs as I wanted to get creating straight away. I then grabbed some polystyrene and hot glue to create a quick prototype to work from.
This is only a basic design but it allowed me to see what elements I needed to create for my design, and also whether the structure would hold (as it is only made of polystyrene).
I was pretty happy with the prototype, but I wanted to add additional features to the final sculpture to make it seem more lifelike. For example, I wanted to paint the final thing as well as attempt to create functional rolling wheels. It also allowed me to decide what I wanted to make the final sculpture out of. I had initially thought of making it out of wood or plastic but this would have been very time consuming and also may not have worked well, considering the intricate parts of a wheelchair (especially a mini version) it could have collapsed easily.
I then got to work on the final sculpture. Instead of polystyrene the initial framework was made out of wire, and then I added polystyrene over the top of it for reinforcement and realism. Using wire also allowed me to make an axle underneath the chair, to which I would eventually attach wheels and get them actually rolling. In the picture above you can see the sculpture in progress. The basic wire frame is there coated in polystyrene, along with the first coat of paint. I chose a black colour in reference to the initial picture I found online.
The wheels were the next step. I made them initially using a compass and scalpel to get pretty close to a perfect circle, and then added layers of polystyrene on top to add depth to the wheels. For the spokes I used the same wire as the axle and framework, and hot-glued them in place. I then used a combination of black and silver paint for colour.
I then used the same structure (though smaller) for the smaller wheels at the front of the wheelchair. As a final touch I added several pieces of polystyrene to add structural integrity and also to hide the wire framework.
Here is the final sculpture.
Overall I was quite pleased with it. It's not the same as the concept wheelchair image I found online due to structural reasons and also because I wanted it to be different. It does bear quite a resemblance to my initial wheelchair designs for Eli in the Character and Animation JAMs, which is great.
It does unfortunately have a slightly lopsided look to it due to the way it was designed and also the hot-glue effects. The wheels are also delicate due to the axle wire and hot-glue usage so they are not as fluid in movement as I would have liked them to be. This was unfortunate but ultimately I do think the sculpture serves its purpose as it is clearly a wheelchair, so all is not lost.
In the end I very much enjoyed the Sculpture JAM, as like many of the previous JAMs I learnt something new and also had fun designing and sculpting the wheelchair. The construction was tricky in places (particularly the axle and wheel movement parts) but overall I enjoyed it.